Artwork balances mundane conditioning that distracts us from the unconditioned creativity of the universe.
Biography
At an early age I learned about art from an aunt who was an established artist. My father taught me a love of literature. My B.A. was in English Lit. My graduate degrees from Columbia University were in studio art and teaching of college studio art. I had exhibitions in New York City during and after my grad work at Columbia. These included: The Macy Gallery at Columbia; Hudson Valley '85 National Exhibition Juried by Barbara Haskell, Curator of the Whitney Museum; Ariel Gallery in NYC; The Emerging Collector in NYC; Eighth Annual Exhibition of Emerging Artists at the Bronx Museum of the Arts; and In Search of the American Experience by The Museum of the National Arts Foundation. There were also reviews in The New York Times, ArtSpeak (a Gallery Review), and the Bronx News.

More recently, I show my work online at charlesrileyart, exhibit in shows at the Fredericksburg Center for Creative Arts in Fredericksburg, VA. From 2012 through 2013 I displayed my artwork at Art First in Fredericksburg VA. Fredericksburg and Art First are very magical places if you ever get a chance to visit.

My artwork includes painting, mixed media, photography, and computer art, as well as a synthesis of the media. The work is expressionistic and it reflects what it is to be human. My writing, which I combine with the artwork, also reflects the human condition. The artwork is also a means to balance mundane conditioning that distracts us from the unconditioned creativity of the universe. My artwork is fed by relationships and other pursuits and studies such as Tai Chi, Taoism, Literature, Music, Media, and Art.

I studied Tai Chi with Master Da Liu in the 80's at Columbia University and I've been practicing and teaching since. I'm now teaching at two community centers in the Fredericksburg, VA area.
Influences
Giocometti, Duer, Modigliani, Gorky, Monet, Edvard Munch, Kienholz, Kirchner, William Blake, Francis Bacon, George Groz, Matisse, Rousseau, Hokusai, Turner, Pollock, Jasper Johns, Jean Dubuffet, Joan Miro, Joseph Cornell, Marc Chagall, Mark Rothko, Max Beckman, Max Ernst, Otto Dix, Picasso, Cezanne, Paul Klee, Mondrian, Salvador Dali, van Gogh, Kandinsky, de Kooning
Education
1985-1986

Ed.D. New York, New York, United States
1984-1985

Ed.M. New York, New York, United States
1982-1984

M.A. New York, New York, United States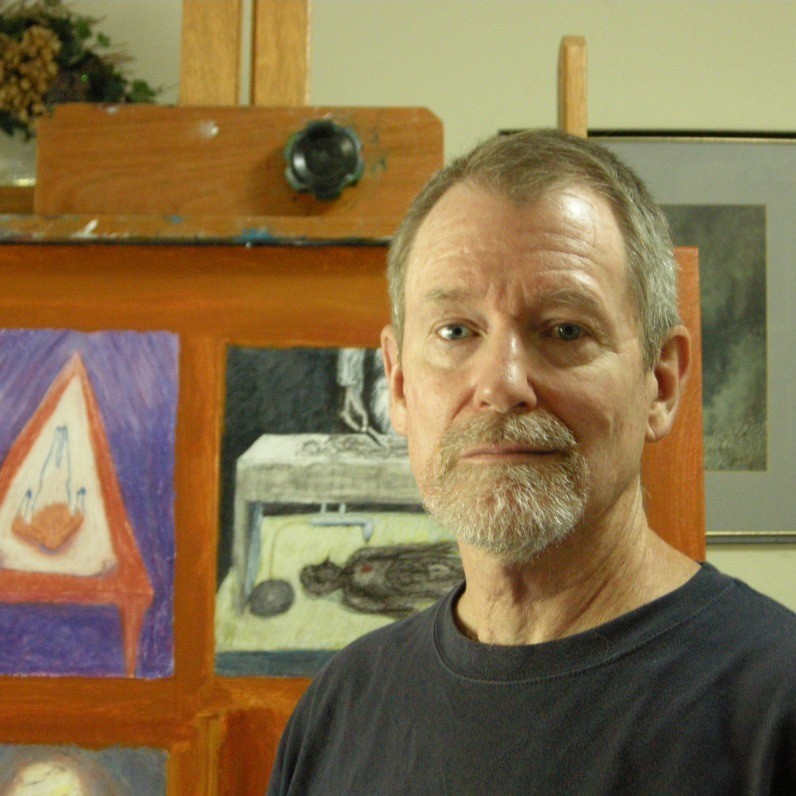 The artist at work
Solo Expositions
---
2015 States of Consciousness Fredericksburg, VA, United States
1984 Shamanism at The Macy Gallery New York City, New York, United States
Collective Expositions
---
2011 Focus on Color National Juried Exhibition November, Fredericksburg Center for the Creative Arts Fredericksburg, VA, United States
2004 Juried Show at Art Works Gallery Richmond, VA, United States
1989 In Search of the American Experience, Jacob K. Javits Bldg, presented by the Museum of the National Arts Foundations New York City, New York, United States
1988 Artists in the Marketplace, Bronx Museum New York City, New York, United States
1987 The Emerging Collector New York City, New York, United States
1986 Ariel Gallery, Soho New York City, New York, United States
1986 Art Show for the National Symposium on the Arts in American Education, Macy Gallery New York City, New York, United States
1986 The Emerging Collector New York City, New York, United States
1985 Macy Gallery, Teachers College Columbia University New York City, New York, United States
1985 Hudson Valley '85, National Exhibition Juried by Barbara Haskell, Curator of the Whitney Museum New York City, New York, United States
1984 Macy Gallery, Teachers College Columbia University New York City, New York, United States
1976 Namon Gallery New York City, New York, United States
Publications & Press
---
---